Ahrens-Fox Fire Engine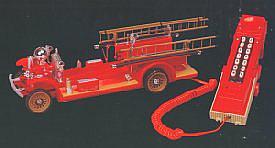 Click to see the original box!
Telemania. A replica of the famous Ahrens-Fox Fire Engine in a bright red two piece telephone. It's designed to look just like the original Fox Fire engine with a retractable ladder, spinning wheels, a brass bell, and all the finishing fire engine touches. Tone/pulse switchable, Mute, Normal ring or Fire Engine sound, test key, Ringer on/off, Hearing-aid compatible, requires two "AA" batteries (not included),Fully modular, FCC/ETL approved. Retail price about $65.